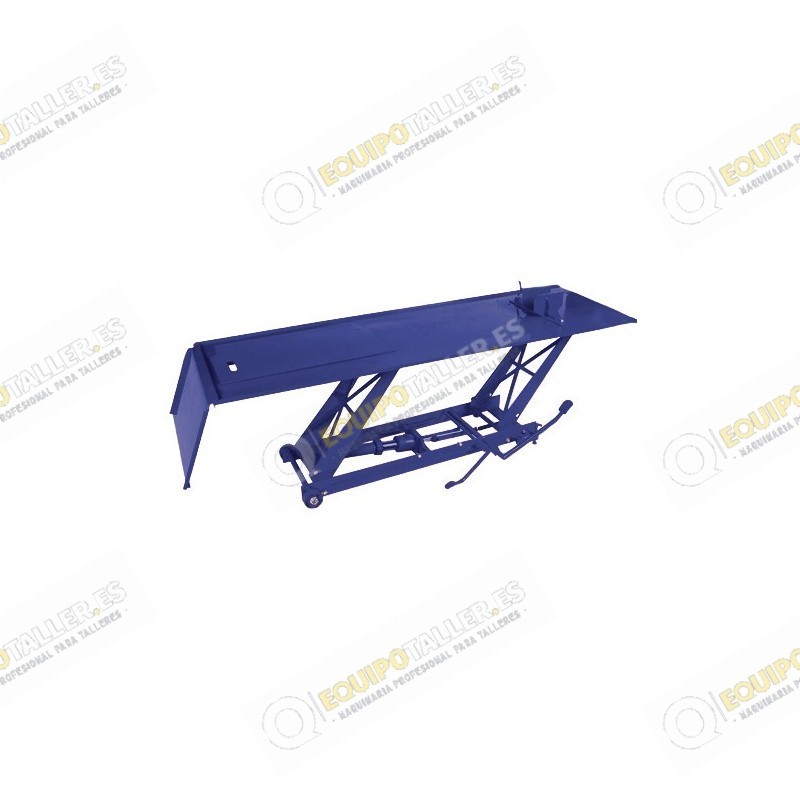 To enlarge hover over the image
Motorcycle Lift
hydraulic
The lift is provided without any liquid
Capacity 400 Kg
Min height 18 cm
Max. height 76 cm
Conforms to safety stand…
+ More info
hydraulic
The lift is provided without any liquid
Capacity 400 Kg
Min height 18 cm
Max. height 76 cm
Conforms to safety standards
Dimensions: 225 x 68 x 30 cm
Weight 162 kg


REQUIREMENTS
The installation of this equipment should be in a perfectly level.

NOTE
The customer agrees to dispose of the material appropriate for the download of this special machinery safely.

Not responsible for reservations to the download you can have the carrier.
Similar products
10/EQT-30SLE-220
Scissor lifts with reduced platforms above ground can lift all types of vehicles weighing less than 3000kg. They are recommended for use in vehicle te…
10/A750
Basic range price with high-end specifications; small investment with great benefits. Italian engineering
2 .CAR
Practical carriage for claw a…
10/EQT-4.0-2DE-220
This  electro-hydraulic lift  operation is designed to work with vehicles of medium and small size with a maximum total weight of 4t in garages and wo…
10/TAL15003
Capacity 1 ton
Min.altura 52 cm
Max.altura 128 cm
Packaging Dimensions 188 x 82.5 x 40 cm
Adjustable width 42-124 cm
Adjustab…
10/EQT-240C-E-220
This  electro-hydraulic lift  operation is designed to work with vehicles of medium and small size with a maximum total weight of 4t in garages and wo…
10/EQT-Z30M-220
Mobile Mid-rise Scissor Lift
Safety Features:
Electrical locks engaged automatically when lowering Synchronized hydraulic cylinders system Saf…
10/GC-30SPL-380
PRODUCT DESCRIPTION:
Electro-hydraulic operating lift designed to work with medium and small vehicles, with a maximum weight of 3 T.
FUNCTIONS…
10/EQT-30SSE-380
Mid-rise Scissor Lift
Safety Features:
Precision machined safety lock Synchronized hydraulic cylinders system Safety descending stop & ala…
10/EQT-4.0-2DE-380
This  electro-hydraulic lift  operation is designed to work with vehicles of medium and small size with a maximum total weight of 4t in garages and wo…
10/EQT-45F4-380
Hydraulic lift capacity of 4.5 Ton of robust construction
Forklift slip not included with lifting capacity up to 3 Ton
Sliding rear plates (…
10/EQT-30SB-380
Scissor lifts are a good choice for use in vehicle testing, maintenance and conservation of different types of small cars.

FUNCTIONS AND C…
10/QJY4040-ZJ-380
Elevator with four columns of electro-hydraulic operation manual, designed to work with vehicles of medium and small size with a maximum total weight…
10/QJY240B-E-380
This Car lift  electro-hydraulic lift operation is designed to work with vehicles of medium and small size with a maximum total weight of 4t in garage…