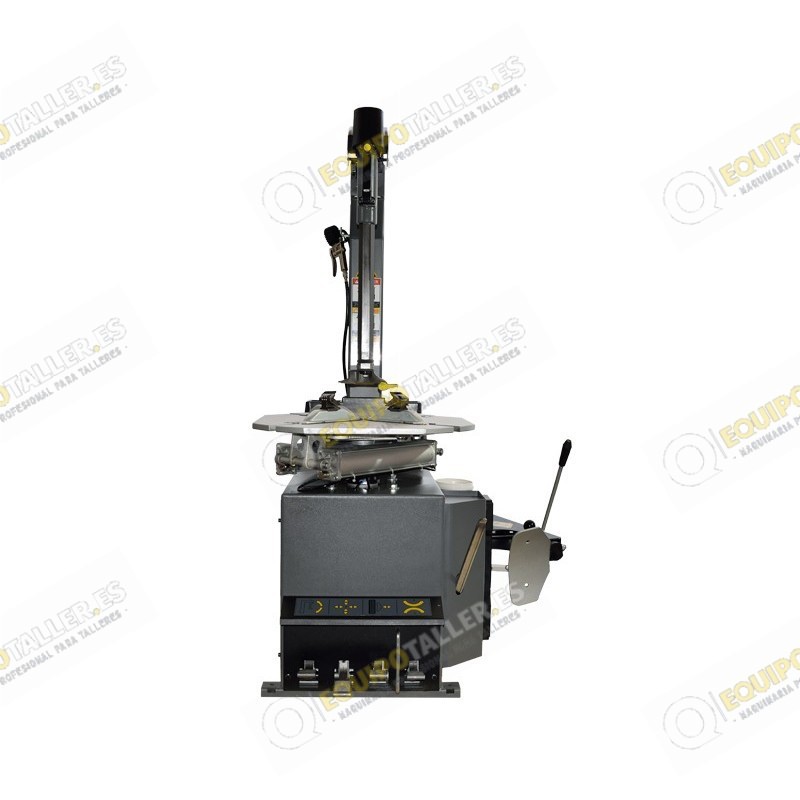 To enlarge hover over the image
Car tire changer advanced articulated
The LC885A is a tire changer, designed to mount and dismantle touring wheels, van and motorcycle.


FUNCTIONS AND CHARACTERISTICS OF THE…
+ More info
The LC885A is a tire changer, designed to mount and dismantle touring wheels, van and motorcycle.


FUNCTIONS AND CHARACTERISTICS OF THE EQUIPMENT:

The mounting head is made of steel with a special composition that offers the customer a lifetime warranty.
• The foot control device has the step-by-step function that can stop the clamp in any position to hold the rim properly.
• The machine includes the plate protection system and the mounting head to avoid damaging the rim.
• The 41mm diameter hexagonal plate and 55mm horizontal arm is suitable for low profile tires.
• The machine incorporates a bead breaker with a capacity of up to 2,500 kg.
• It is possible to incorporate a support arm (PL320).
• The nail is made of a special, durable and durable material.
• Includes a switch with a 40 A interleaved fuse to protect the electrical system of the machine.
• Auxiliary inflation system with external tank, with CE approval.
• Semi-automatic tire changer, the back and forward tilt of the column and the column lock can be completed pneumatically.


TECHNICAL CHARACTERISTICS:


| | |
| --- | --- |
| Feeding | 110 V/ 220 V/ 380 V |
| Poder | 0.75/1.1 Kw |
| Outer claw | 10-20 " |
| Inner claw | 12-23 " |
| Maximum tire diameter | 1.120 mm. |
| Rotation speed of the turntable | 6.5 rpm |
| Width of wheel | 3-12 " |
| Work pressure | 8-10 bar |
| Noise level | ≤ 70 db(A) |
| Weight | 246 Kg |
Similar products
10/895IT-380
1. The mounting head is made of special steel and lifetime warranty.

2. The control pedal assembly has the step-move function which can sto…
10/LC810-220
The LC810 is a tire changer, designed to mount and dismantle touring wheels, van and motorcycle.
Adaptadores para llantas de moto puestos en la fo…
10/PL230
The PL230 is a tool that dramatically reduces the effort required to Tire low alloy wheels and high performance profile.

It is designed and…
10/AL320
Designed for the wheel loader LC885 and 885ITA.
10/885ITA-380
The 885ITA is a tire changer, designed to mount and dismantle touring wheels, van and motorcycle.

FUNCTIONS AND CHARACTERISTICS OF THE EQU…
10/LC810-380
The LC810 is a tire changer, designed to mount and dismantle touring wheels, van and motorcycle.
Adaptadores para llantas de moto puestos en la fo…