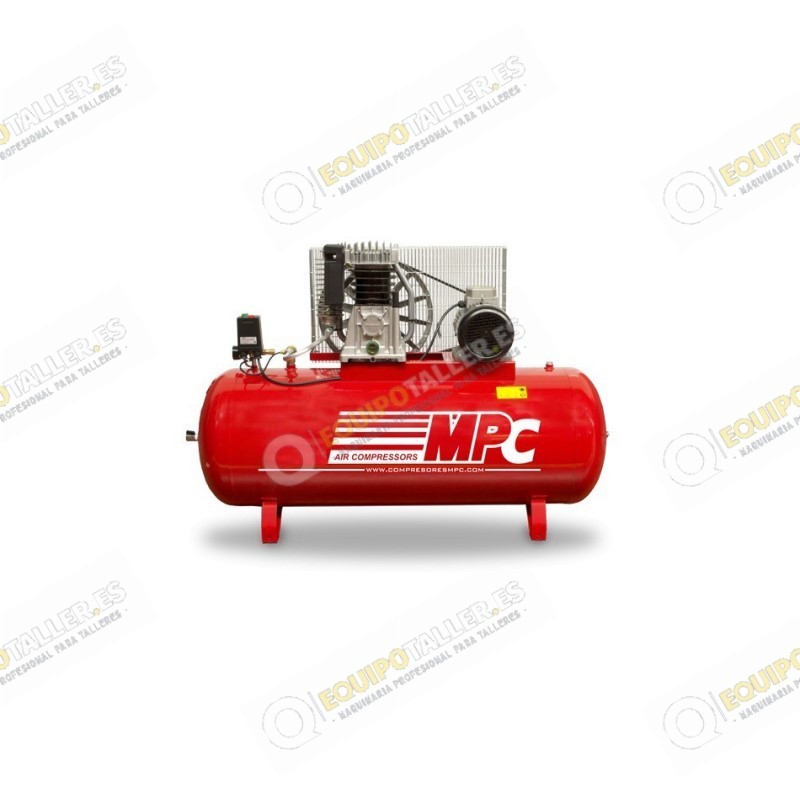 To enlarge hover over the image
Air compressor 300 liters 4 kW 10 bar
Compressor with mono-stage head and perfect for the performance of work requiring a certain degree of demand-twin.

Its size and weight make…
+ More info
Compressor with mono-stage head and perfect for the performance of work requiring a certain degree of demand-twin.

Its size and weight make it a very versatile tool that can be used in conditions that require some degree of mobility. It also has wheels and has a front support for easy transport.

Its high-performance electric motor is made of cast aluminum and includes thermal protection that protects the motor against any incidents that may arise during the course of the work.

TECHNICAL CHARACTERISTICS:
| | |
| --- | --- |
| Motor | 5.5 HP. |
| Capacity | 270 litros |
| Intake air | 550 l/min |
| Pressure | 10 bar |
| Noise level | 79 dB |
| Weight | 120 Kg. |
| Dimensions | 1080 x 1500 x 600 mm. |
| Voltage | 220v 50Hz/ 380v 50Hz |
WARRANTY:

The warranty period is stipulated by the Law of Guarantees Consumer Goods 23/2003, 10 July, misuse or improper handling of the goods excludes or void the warranty. If you have the guarantee of this product will be replaced only run the full product never defective part.
• If verified upon review of the product that has no fault or defect can charge the customer shipping and returning the product.
• In case of non compliance provisions to guarantee compliance with the postage will be paid by the customer.
• Excluded from warranty are all electric motor.
Similar products
0/1.100.022
Air compressor with mono-stage head and perfect for the performance of work requiring a certain degree of demand-twin.

Its size and weight…